12

Aug, 2022
About Paintless Dent Repair
What is Paintless Dent Removal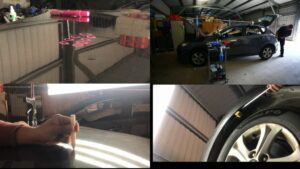 (Hail Damage? See hail quotation form below)
Paintless dent removal is an innovative technique that aims to remove dents wherever possible restoring the original paint on your vehicle. Most insurance companies now require a PDR quotation quote and we work with insurance companies regardless to take the stress and confusion off you.
There are two main types of techniques –
a) pushing dents from behind the panel or
b) glue pulling from the outside.
Any vehicle less than 10 years old are at a low risk of paint issues due to the industry standards and warranty of the factory paint.
Once vehicles are older than 10 years, the paint being cracked particularly due to glue pulling becomes a possibility. More often you hear "I might crack the paint". 'Push to paint' (PTP) on the quotation becomes a necessity. The requirement of painting the panel becomes necessary and annotated on the quotation for the  insurance company. Of course hail cracking the paint automatically requires a PTP annotation applied to the quotation.
Of course in the private quote situation, a decision has to be made whether the consumer wishes to proceed. For example if the vehicle was to be painted the repairer decided whether nor not to "risk it". The PDR technician may refuse to do the repair because of the risk of cracking based on the paint condition. Please kindly accept their refusal based on experience and to avoid further issues.
Paintless Dent Repair is Environmentally Friendly
Paintless Dent Repair uses very little in the way of chemicals except to perhaps clean glue off the paint and a little for buffing or cut and polish procedures. This makes this technique very environmentally friendly. In 2022, the paintless dent repair now includes environmentally friendly spray painting and panel beating under one roof  with no need to outsource!
Vehicle Hail Damage
Insured hail damage vehicles
Have any dents? Car insured and suffered hail damage?  We are ready to proceed with quotations but require claim number and some information. Please click the following link and submit the form
https://haildentrepair.com.au/customer-information-assessment-form/
Anyone worried about choice of repairers contact us – Call us – 0408020468
More information is available. We will then contact you as soon as we can for an assessment and quickly appoint you for repairs.
Non-insured or minor hail damage
Otherwise, for general hail or dents, feel free to submit a free dent quote today and we will get back to you asap.
Powered by weForms